International Society for Comparative Adult Education
Conference "Comparative Adult Education 2012"
The 5th Conference of ISCAE took place November 3-6, 2012 in Las Vegas, USA
in conjunction with the Commission for International Adult Education (CIAE), and
the annual conference of the American Association for Adult and Continuing Education (AAACE).
Comparison means to explicitly identify and analyze similarities and differences in two or more countries and includes the attempt to understand why the differences and similarities occur and what they tell us about adult education in these countries.
The aim of this conference was to provide a forum to collect, share, and discuss practices, concepts, evaluation, and research studies. By this we want
- to document and develop the actual knowledge about comparative research and
- to improve theory and practice in the education of adults.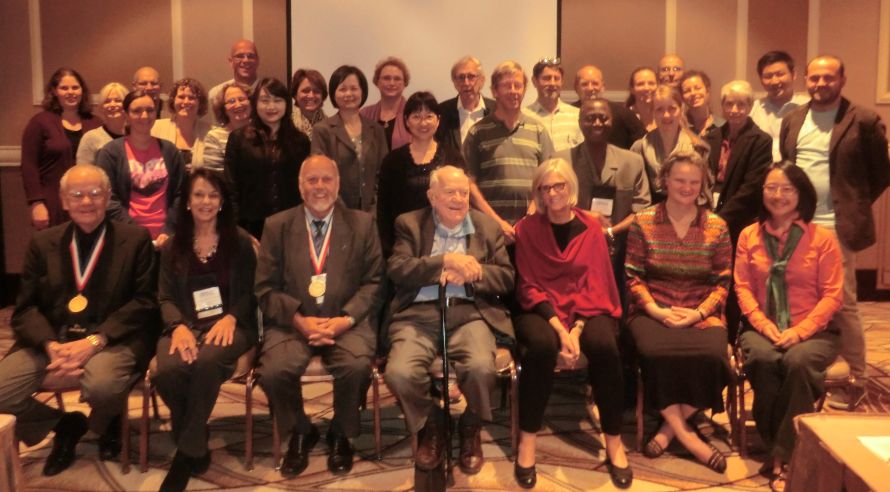 Participants:

Alajlan Sarah, SAUDI ARABIA
Aljohani Obaidalah, SAUDI ARABIA
Avoseh Mejai, Vermillion, USA
Boucouvalas Marcie, Falls Church VA, USA
Bron Michal, Stockholm, SWEDEN
Brooks Ann, Texas State University, USA
Buckner Marjean, Palmetto Bay FL, USA
Charters Alexander, Syracuse NY, USA
Dorsainvil Jean-Claude, Port au Prince, HAITI

Egetenmeyer Regina, Mainz, GERMANY
Erichsen Elizabeth, Fargo ND, USA
Fedeli Monica, Padua, ITALY
Fleige Marion, Chemnitz, GERMANY
Garuba Ayo, Lapai, NIGERIA
Griswold Wendy, Lawrence KS, USA
Henschke John, St. Louis MO, USA
Holford John, UK
Hsiao Yu-Fen, Chia-Yi, TAIWAN
Isenberg Susan, Florissant, MO USA
Knox Alan, Madison WI, USA
Kwapong Olivia, USA
Lafont Pascal, FRANCE

Lee Ya-Hui, Chia-Yi, TAIWAN
Maxillo Bryman, NIGERIA
Meniconi Tomas Pizarro, Puerto Montt, CHILE
Merill Henry, Avon IN USA
Milana Marcella, Copenhagen, DENMARK
Mokoele Johannes, Durban, SOUTH AFRICA
Nesbit Tom, Vancouver, CANADA
Nicaise Ides, Leuven, BELGIUM
Ogbuehi Chidi, NIGERIA
Ojokheta Kester Osegha, Ibadan, NIGERIA
Okwakpam Iheanyi Nwokanma, Port Hartcourt, NIGERIA
Pariat Marcel, FRANCE
Reischmann Jost, Tübingen/Bamberg, GERMANY
Risley Lori, Washington, USA
Rueffin Sandra, Mainz, GERMANY
Sarumi Abideen Abidoye, Ibadan, NIGERIA
Schemmann Michael, Giessen, GERMANY
Schugurensky Daniel, Tempe AZ, USA
Sun Qi, Larami WY, USA
Wei Hui-Chuan, Chia-Yi, TAIWAN
Yu Chen-Yi, Chia-Yi, TAIWAN
For downloads of the papers, travel information, and photos from the conference point with your mouse left to yellow "More Info".
Program of the conference:
Sat. Nov. 3

Room: Tango

Room: Conga

13.00-14.00

Registration

14.00-14.15

Opening & welcome

Michal Bron Jr, ISCAE President

14.15-15.00

Plenary session

Jost Reischmann:

Comparative Research in Adult Education - Typology and Pitfalls

15.05-15.50

Plenary session

Tom Nesbit & John Holford:

University Continuing Education in Canada and the United Kingdom: A Comparison

15.50-16.10

Break

16.10-16.55

Plenary session

Regina Egetenmeyer:

Informal Learning of managers in a multinational company in Germany, Great Britain and Spain: an Intercultural Comparison

17.00-17.45

Plenary session

Monica Fedeli, Mario Giampaolo, John A. Henschke & Susan Isenberg:

Research on the Use of Learning and Degree Contracts within University Settings in Italy and the USA

17.50-18.10

Confe­rence practi­calities

information on evening Saturday Nov. 3, evening Sunday Nov. 4 - joint event with CIAE and Monday Nov. 5 dinner
Sun. Nov. 4

Room: Tango

Room: Conga

09.00-9.45

Parallel session

Ann K. Brooks, Alexis Maston & Pen Bovathana:

Becoming Educated: A Comparison of Womens's Educational Resilience in Poor, Rural Cambodia and Poor, Urban Black America

Michael Schemmann & Josef Schrader:

The concept of "Governance Regimes": A helpful tool for international comparison in adult education?

09.45-10.30

Parallel session

Qi Sun & Elizabeth Anne Erichsen: Bridging Adult Education between East and West: Critical Reflection and Examination of Western Perspectives on Eastern Reality

Michal Bron Jr:

Non-formal learning - similar settings, divergent cultures. Comparison of Polish and Swedish Environmental NGOs

10.30-11.00

break

refreshments

11.00-12.00

ISCAE business meeting

12.00-13.30

lunch

13.30-14.15

Parallel session

Sandra Rueffin: Professional Identity in Adult Education in Germany and North America: Methodological Approach

Marion Fleige:

Art Education in the USA and in Germany. Concepts, Institutions, and Benefits. A Comparison

14.20-15.05

Parallel session

Mejai Avoseh:

The Freirean "Andragogy" and Orality in Indigenous African Education: A Framework for Comparative Education

Hui-Chuan Wei & Chin-Yun Huang:

Learning Topics Identified by the Middle-aged Groups: Comparison between Two Groups of Chinese People in Singapore and Taiwan

15.05-15.30

break

refreshments

15.30-16.15

Parallel session

Sarah Alajlan, Obaidalah Aljohani & Elizabeth Anne Erichsen:

Learning the Arabian or the American Way? Negotiating Divergent Pedagogical and Learning Cultures

Lee Ya-Hui, Wei, Hui-Chuan & Yu, Chen-Yi:

Older Adult Education Policies in Taiwan and in China: A Comparative Study

16.20-17.05

Parallel session

Ides Nicaise:

Adults in formal education: Why do they learn – and does it do them any good? A comparative study of participants in formal adult education in 13 European countries

Ayo Garuba:

Adult Literacy as Social Practice: Some Lessons for Nigeria from Scotland

17.10-17.55

Plenary

Pascal Lafont & Marcel Pariat: The Recognition of Prior Learning (RPL) in France, Spain and Italy  

17.55-18.15

Closing

new ISCAE President and Board

19.00-21.00

Joint Session with CIAE: Welcome, Introductions, and Community Building Reception

Special Guest Speaker: Dr. Alan Knox, University of Wisconsin: Questions about Inquiry for International AND Comparative Adult Education