International Society for Comparative Adult Education
Our Conference: September 24-27, 1995, Bamberg, Germany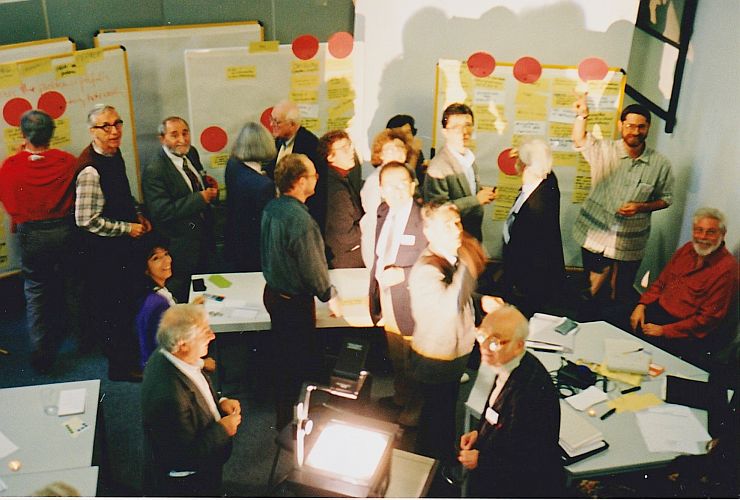 Participants of the conference:
Arthur, Lore: The Open University, Milton Keynes, Great Britain
Bélanger, Paul: UNESCO-Institut für Pädagogik, Hamburg, Germany
Benes, Milan: Univerzity Karlovy of Prague, Czech Republic
Blais, Madeleine: Université de Montréal, Canada
Boucouvalas, Marcie: Virginia Tech/University of Virginia, USA
Bron, Michael Jr: Nobel Library of the Swedish Academy, Stockholm, Sweden
Charters, Alexander: Syracuse University, USA
Charters, Margaret A.: Syracuse University, USA
Dohmen, Günther: Universität Tübingen, Germany
Dufresne-Tassé, Colette: Universitè de Montréal, Canada
Hake, Barry: University of Leiden, the Netherlands
Henschke, John A.: University of Missouri-St. Louis, USA
Israeli, Eitan: Hebrew University of Jerusalem, Israel
Jarvis, Peter: University of Surrey, Great Britain
Jelenc, Zoran: Slovene Adult Education Centre, Ljubljana, Slovenia
Jütte, Wolfgang: Bildungswissenschaftliche Hochschule Flensburg, Germany
Kalnina, Sandra: University of Latvia, Riga, Latvia
Knoll, Joachim H.: Ruhr-Universität, Bochum, Germany
Knox, Alan: University of Wisconsin, Madison, USA
Krajnc, Ana: University of Ljubljana, Slovenia
Kulich, Jindra: University of British Columbia, Vancouver, B.C., Canada
Kuprys, Povilas: Kaunas University of Technology, Lithuania
Lauva, Alja: Latvia University, Riga, Latvia
Morris, Roger Keith: University of Technology/Education, Sydney, Australia
Peters, John M.: University of Tennessee, Knoxville, USA
Reischmann, Jost: Universität Bamberg, Germany
Savicevic, Dusan: University of Belgrade, Yugoslavia
Skoda, Kamil: Univerzity Karlovy of Prague, Czech Republic
Titmus, Colin: Lilac House Krbky Malzeard-Ripon, North Yorkshire, GB
Turza, Karel: Sociologski pregled, Beograd, Yugoslavia
Vymazal, Jiri: Univerzity Karlovy of Prague, Czech Republic
Yamaguchi, Makoto: Ryutsu Keizai University, Kounosu City, Japan
Program and Presentations:
Sunday, Sept. 24
19.00-19.20: Opening of the Expert Seminar: Prof. Dr Alfred Hierold, Rektor of Bamberg University, Prof. Dr Jost Reischmann, Host and President of ISCAE
19.20-21.00: Comparare humanum est? Panel session with researchers with multicultural background: Marcie Boucouvalas, USA; Michal Bron Jr, Sweden; Jindra Kulich, Canada
21.00-23.00: Social meeting
Monday, Sept 25
General topic: State of the Art. What are valid, accepted, basic assumptions, structures, contents in the method of comparative adult education?
9.00-10.30: Why Do We Compare? Moderator: Colin Titmus Invited Speakers: Paul Bélanger, UNESCO Hamburg; Peter Jarvis, UK; Joachim Knoll, Germany; Ana Krajnc, Slovenia
10.30-11.00: Break
11.00-12.30: Structures, Patterns, Methods: What is "the standard"? Moderator: Peter Jarvis, UK. Invited speakers. Alexander Charters, USA; Alan knox, USA; Dusan Savicevic, Yugoslavia; Colin Titmus, UK
12.45-13.15: Reception by the Mayor of Bamberg in the historic Town Hall
13.15-14.15: Lunch at "Schlenkerla"
14.14-15.15: City-walk
15.15-16.30: Studies in Comparative Adult Education under Discussion I. Moderator: Colette Dufresne-Tassé, Canada.
1. Landmarks in International Adult Education, ed. By Alexander Charters & R.J. Hilton, London 1989. Reporter: Eitan Israeli, Israel. Reactor: Alexander Charters, USA.
2. Workers' and Post-Secondary Education. A cross-polity perspective, A. Bron-Wojciechowska, Uppsala 1989. Reporter: John M. Peters, USA. Reactor: Michal Bron Jr, Sweden.
16.30-17.00: Break
17.00-18.30: Studies in Comparative Adult Education under Discussion II. Moderator: Madeleine Blais, Canada.
3. Strenthening Adult and Continuing Education, A. Knox, San Francisco 1993. Reporters: Dusan Savicevic, Yugoslavia; Karel Turza, Yugoslavia Reactor: Alan Knox, USA.
4. Continuing Education in Higher Education. Academic self-concept and public policy in three European countries, Joachim Knoll, Colin Titmus & Jürgen Wittpoth, Leeds 1993. Reporters: John A. Henschke, USA, Wolfgang Jütte, Germany. Reactors: Joachim Knoll, Germany, Colin Titmus, UK.
18.30-19.45: Mahrs-Bräu: local beer, food and music
Tuesday, Sept 26
General topic: Problems and Pitfalls in Comparative Andragogy
9.00-10.30: Self-examination 1.
Moderator: Eitan Israeli, Israel. Papers presented by:
Colette Dufresne-Tassé, Canada: Description of a Model for the Analysis of Adult Education in the Museum and Instruments facilitating the Conducting of Intercultural Studies. Invited discussant: Roger K. Morris, Australia.
Zoran Jelenc, Slovenia: "State of the Art". A Study of research on the education of adults in the European countries. Invited discussant: Aija Lauva, Latvia.
10.30-11.00: Break
11.00-12.30: Self-examination 2.
Moderator: John M. Peters, USA. Papers presented by:
Barry Hake, Holland: Problems and Pitfalls in Comparative Andragogoy: Some notes on the research process in comparative/historical studies. Invited discussant: Dusan Savicevic, Yugoslavia.
Wolfgang Jütte, Germany: Translation-orientated work in the field of terminology as a challenge for comparison in adult education. Invited discussant: John A. Henschke, USA.
12.45-14.00: Lunch
14.15-16.00: Self-examination 3.
Moderator: Ana Krajnc, Slovenia. Papers presented by:
Madeleine Blais, Canada: Experiencing a Dialogic Approach. Invited discussant: Sandra Kalnina, Latvia.
Makoto Yamaguchi, Japan: Indicators and research survey as methodology of comparative adult education. Invited discussant: Povilas Kuprys, Lithuania.
16.00-16.30: Break
16.30-18.00: Problems and Pitfalls Summed Up. Moderator: Lore Arthur, UK. Panelists: Barry Hake, Holland, Roger K. Morris, Australia.
18.00-19.00: Business Meeting of ISCAE
19.30: Franconian country-night in Stegaurach (out of Bamberg)
Wednesday, Sept 27
9.00-10.30: Summary and "State of the Art". Moderator: Alan Knox, USA. Panelists: Paul Bélanger, UNESCO Hamburg; Marcie Boucouvalas, USA; Alexander Charters, USA.
10.30-11.00: Break
11.00-12.30: How do we go on – next meeting, next topic(s)? Moderators: Michal Bron Jr, Sweden, Jost Reischmann, Germany
12.30: Lunch. Departures
Report from the International Expert Seminar:
Methods Of Comparative Andragogy
University of Bamberg, Germany, September 24-27, 1995
by Margaret A. Charters, Ph.D.
The International Society for Comparative Adult Education (ISCAE) held its first international expert seminar Methods of Comparative Andragogy at the University of Bamberg, Germany between September 24th and 27th, 1995. The aim of the seminar was to collect, share, and discuss for publication the consensus on definitions, standards, methods, and current problems in research methodology in comparative andragogy. Prof. Dr. Jost Reischmann was host and president of ISCAE. Dr. Michal Bron Jr. of Sweden was Conference Chairman. Fourteen countries were represented among the 31 participants.
Prior to the seminar, the Annual Conference of the German Commission of Professors of Adult Education took place in Bamberg. The juxtaposition of the two events was capitalized upon by our host to the advantage of both groups. The final program of the professors' conference "Trends in International Adult Education" was provided by ISCAE panelists: Dusan Savicevic, Serbia; Barry Hake, The Netherlands; Anna Kranjnc, Slovenia; and Alan Knox, USA Early-arriving seminar members attended and participated in the discussion. Graduate students in the University of Bamberg Adult Education program assisted in the implementation of the Expert Seminar and participated as observers at many of the sessions and in informal exchanges with the international visitors.
Dr. Alfred Hierold, Rector of the University of Bamberg opened the seminar with a brief history of the evolution of this institution in Bavaria from a classical "academie de philosophie" in 1647 to a full university of the humanities and social sciences in 1979.
The importance of the researcher as a tool in the process of comparative research was the focus in the opening seminar session. Panelists Michal Bron (Polish/Swedish), Marcie Boucouvalas (Greek/American), Jindra Kulich (Czech/Canadian) and Barry Hake (UK/Holland) shared insights with anecdotes from their own multicultural backgrounds. Language is one thing; understanding the culture, another. We need to work in teams as there is no such thing as a-political; we are full of biases. Rigor in comparative andragogy "includes constant vigilance to ontological and epistemological aspects of the researcher and his/her world".
Why compare?
At the first working session Paul Belanger UNESCO Hamburg, Peter Jarvis, UK, Joachim Knoll, Germany and Ana Krajnc, Slovenia reviewed the diverse purposes of comparative research. They included: to "learn from each other"; to celebrate differences; to understand ourselves; intellectual curiosity; to understand systems and policy; to develop models and explain data, among others (increase understanding and functioning, Knox).
Alexander Charters, Alan Knox, Dusan Savicevic and Colin Titmus provided an historical and current review of the structures, patterns and methods used in adult education comparative research. The search for "a standard" proved elusive. Charters stated that the principles of research and methodology or design of research projects for comparative adult education are the same as for research projects in other fields of education. The choice of a specific method depends on the topic of the study. Knox emphasized the value of using social indicators for normative reference points. He suggested developing profiles to interpret what happens in each country and interpret the specific country within larger groups using cluster analysis to develop hypotheses, minimize ethnocentrism and acknowledge bias. "Methodology", Savicevic said on the other hand "is not only the study of methods, techniques and procedures but includes both logical and epistemological dimensions of a particular discipline that has its basis in the philosophical disciplines, axiology and epistemology". The necessity to seriously train andragogy researchers in methodology in both undergraduate and graduate programs was emphasized. Semantic confusion remains. Savicevic believes that the uncritical application of a conceptual apparatus is not always appropriate in the interpretation of andragogical phenomena. He supports efforts to scientifically establishing andragogy as a discipline. Titmus spoke of the lack of quantitative data available. UNESCO's attempt to draw up a standard classification of education for statistical purposes excluded a large part of adult education by ignoring short courses. Lack of resources has prohibited the monitoring of research processes. He reminded the group that no one has yet "devised theories of adult learning and teaching which are generally accepted as valid for the whole of adult education in all societies". Further work in the epistemology of adult education is necessary.
Studies in comparative adult education under discussion:
Following this overview, four quite different research processes were described and critiqued based on the following books: Landmarks in International Adult Education ed. by A. Charters & R. J. Hilton, London 1989, Workers' and Post-Secondary Education, A Cross-Polity Perspective by A. Bron-Wojciechowska, Uppsala 1989 (Michal Bron was reactor) Strengthening Adult and Continuing Education A. Knox, San Francisco 1993, and Continuing Education in Higher Education, Academic Self-Concept and Public Policy in Three European Countries, Joachim Knoll/Colin Titmus/Jurgen Wittpoth, Leeds 1993. The presenters were: Eitan Israeli, John Peters, Dusan Savicevic, Karel Turza and John Henschke. Reaction was provided by the authors or their representatives.
The 9-topic protocol in the Charters process for describing landmark programs plus the transparency of the selection of programs for comparison has been adapted and found useful for comparison in other studies, most recently in some work with Transnational Corporations (TNCs) in Brazil.
Bron-Wojciechowska examined higher education policies in countries with different socio-political systems: Yugoslavia, Poland, US and Germany. The role of universities, trade unions and businesses in providing access to post-secondary education for blue collar workers was examined. Data were collected from secondary sources plus field interviews and observations. The study shows: 1) There are considerable differences in what country education policies provide for and what actually happens. 2) Existing theoretical models of social change and education only partially account for the inequalities observed in worker access to educational opportunities in the four countries. 3) There is no sharp distinction between the Eastern and Western countries studied on blue collar worker access to post-secondary education. "The researcher strained to find coherence in the diversity present across the four countries. Ironically, in her quest for coherence, she discovered that problems of access are indeed universal.
The Knox work included 175 case studies from 35 countries. Collaborating colleagues from other countries analyzed pertinent cases to draw conclusions about their country. The book builds on the comparative findings to arrive at recommendations for strengthening planning in US provider agencies. Discussion of the case study method focused on the necessity of evaluation at three levels: the writing/writers of the case studies; co-ordination of the case studies in the countries and the analysis of the publishing researcher. Masterful synthesis can be undermined, for comparative purposes, by bias due to the selection of cases.
The historical method was used by Knoll/Titmus/Wittpoth in their study of the penetration of continuing education into higher education in France, the Federal Republic of Germany and Great Britain. Each country was examined individually to trace the way the current situation has been reached. The countries were then compared to indicate the extent to which the forces operating on developments in continuing and higher education are either peculiar to, or shared, by other countries. Discussion on this qualitative study centered on the absence of quantitative data available and the translation challenges of working with materials in three languages and the need for sensitivity to influence of the general culture, religion and history of the separate states. Henschke suggested that we look at a paradigm of the stages an organization goes through in reaching maturity and consider the kinds of research most appropriate for each stage. At the early stage of growth in a field such as adult education, one can justify the use of different research methods.
Problems and Pitfalls
After these four major research processes had been presented and discussed, the seminar participants turned to a consideration of problems and pitfalls in current comparative andragogy. Researchers' presentations of processes in on-going projects were reacted to by an invited discussant followed by open discussion.. Discussants were: Roger K. Morris, (Australia), Aija Lauva, (Latvia), Dusan Savicevic (Serbia), John Henschke (USA), Sandra Kainina, (Latvia), Povilas Kuprys,(Lithuania) and Pavel Skoda (Czech Republic).
Colette Dufresne-Tasse reported that adult education in the museum has never been subjected to in-depth comparative analysis. However, the similarity of the statistical data collected, primarily by governments, in western countries concerning their audiences permits comparisons of a descriptive nature. We know who goes to the museum, why they go there and their degree of satisfaction. To date such information has satisfied institutions using the marketing approach to their audiences. These descriptions however, do not tell how or why such activities please. When the marketing approach fails, as seems to be reflected in current trends, it becomes necessary to know how or why the museum activities please in order to provide more successful interventions. Answering these questions requires local in-depth analytical studies. Dufresne-Tasse suggests that "these analyses should stem from a model and be based on evaluation tools that will provide an explanation of the results of the interventions generated by the model". She believes this process is " equally essential for carrying out comparative analyses in a number of countries". The present state of the study of adult education in the museum calls for a deductive approach, despite its shortcomings and evidence favoring an inductive approach for other comparative studies. The use of a "flexible and evolving, but nonetheless pre-established model" is necessary as researchers in museums are "neither at a preliminary stage of exploration of the phenomena nor at a very advanced stage of in-depth study". She provided a description of one such model and the tools and instruments,(including one to measure psychological functioning) needed for its study developed by researchers with the Groups de recherche sur les musees of l'education de l'adulte at the Universite de Montreal.
The problems of receiving funding for research when perceived needs of researchers and their institutions are not synonymous and the challenge of developing new instruments for measurement were highlighted. Potential pitfalls of adopting research methods from studies at different stages of maturity of the field, and adapting research methodology from different disciplines, were discussed.
Zoran Jelenc reported on Adult Education Research Trends in Central and Eastern European Countries. The report was based on part of the UNESCO project, Adult Education Research, World Trend Analysis (A UNESCO-UIE 92-93 Project). The study The State of the Art Study of Research on the Education of Adults in the European Countries was conducted by the European Society for Research on Education of Adults (ESREA). The research method employed was that of mail questionnaire. The answers to the questionnaire were sent in the form of national reports which were then synthesized into a joint report discussed at a UNESCO workshop conducted by Jinda Kulich. The second stage of the study used a new enlarged questionnaire so that to "questions on research in adult education were added questions about general conditions in both the social, political and economic development of the state in the development of adult education and in the research on adult education since 1989".
Studies such as these help create a data base for research. While different areas are compared, reliable comparisons are hard due to the uneven quality of the data. Much was gathered by volunteers. The whole world is in transition and researchers must maintain an internationalist approach, not just looking at Europe. People are still afraid to speak about the strengths of the old systems. They need to be more critical of the west. This ESREA study reflects stagnation, even retrogression of adult education research activity. "The insight that it is adult education which represents one of the most significant means for social growth and change has not yet penetrated into social consciousness." The political and social transformations in many countries have caused a shifting of government research priorities toward labor market and employment research. There has been a shift from pre-1989 priority on adults as learners to post-1989 emphasis on adult education organizations. Humanistic research projects come at the tail of priorities of international bodies and funds. Programs and systems for training of young researchers in adult education do not exist with perhaps the exception of M.A. and Ph.D. programs. Problems of dissemination of results were also discussed. Possibilities for publishing are limited and few opportunities for cross fertilization of scientific ideas at professional meetings of researchers exist. Data bases are limited and the data infrastructure within countries and between countries need stimulation. A major pitfall is to think that "Central and Eastern European countries can be helped merely through providing insights gained so far, with models developed in other countries or with patronage over how such plans are to be implemented." They first have to help themselves, but should strengthen international cooperation and together with appropriate technical and material help, together move forward.
Most recently there has been work on developing basic frameworks for shaping adult education policy and an increased interest in theoretical and general research.
Wolfgang Jutte addressed the problems of translation in comparative adult education when success of technical communication is crucial such as in his work in Spain. The process involves a series of problem solving efforts as conceptual equivalence and the context of the work, not just word for word translation, is necessary. A translator needs knowledge of the process of terminology to avoid the pitfall of words that have changed meaning over time.. There is a question as to whether to use footnotes or glossaries for imbedding differences that are not common into the context. While Jute claimed it is not appropriate for the research game to try to standardize terms, others found that lexicons had been developed and found useful in other fields such as theology. The German Adult Education Association (Folkschools) DVV, project on terminological equivalents and the multi-lingual data base of Hans Hovenberg of Sweden and the UNESCO classification are efforts in this direction in the field of adult education. However an important pre-requisite for international specialist communication is further development of one's own national system of terms. Translation is a methodology problem. It is important to work with supra-national organizations. The tendency for English to become the 'lingua franca' does not solve the deeper problems of translation. A knowledge of the source language is absolutely necessary for success in comparative studies.
Madeleine Blais described a study of the comparison of the effects of university studies on various dimensions of the adult's life, between Montreal and Caracas. Researchers used a recorded in-depth semi-structured interview method. The challenge of communicating between two research teams from two cultures was met by a 'dialogic' approach. This approach of discussing hows and whys at each stage of the project only partially solved the communication problem but shed much light on the kinds of adaptation and understandings needed in research designs for multi-cultural contexts.
Makoto Yamaguchi came to comparative adult education from the sociology of education approach. Her concerns related primarily to the development of indicators as an effective source of basic data to help comparative analysis. The Center for Educational Research and Innovation (CERI) under the INES project developed a set of indicators on the organization and operation of education systems, added to in 1995, which also includes indicators of the results of education. Limitations were discussed. Researchers also need knowledge of the legal system and social history of a country. Indicators with which to compare living conditions of societies and explain the present life profiles are also necessary. These indicators vary due to age and educational attainment. The design of questionnaires should include the sociology of education approach also. An international team is indispensable. Communication and co-ordination is crucial in designing the questionnaire.
Barry Hake commented from the perspective of a contributor and/or project leader in a number of international European research projects and is currently secretary of European Society for Research in the Education of Adults (ESREA). He concludes that "I am not as yet convinced that we have got onto the 'steep learning curve' which would raise the level of our research effort. He claims there is a "serious failure to provide a rigorous theoretical basis for most comparative studies". He perceives adult education as "a field of institutions, activities practices and behaviors which can be scientifically studied from the perspective of the well-established social scientific disciplines. This is in opposition to those who seek to establish a distinct discipline of adult education or andragogy. The purpose of comparative studies, Hake claims, should be to develop a body of knowledge and formation of social scientific theories, rather than "learning from each other". Adult educators as 'generalists' all too often ignore the recognized canons of historical research and theoretical perspectives available within the educational and social sciences. Distinct academic departments of adult education must be multi-disciplinary. "The best work in the European adult education research networks is coming from those with a good grounding in disciplinary-based research rather than general adult educators or 'andragogues'". Communicative networks are the fundamental elements necessary to work together for effective research. We need to communicate not just with ourselves but those outside the field and induct them into adult education. Lots of people other than adult educators are interested in life long learning. Comparative adult education researchers also need to make a systematic effort to identify, encourage and support the younger researchers to secure the future of comparative research. "Much policy-related research is characterized by conceptual poverty and methodological illiteracy.... There are many unanswered questions concerning the pluralistic disciplinary foundations of research on the education of adults."
Jindra Kulich added, "The monumental political social, economic and cultural changes which are ongoing ....demand significant unlearning, re-education and new learning. Adult education can and must play an important role in this challenging process.....If we can resist the temptation as 'do-gooders' to force our models and solutions on the quite different situation and needs in the region , and if our colleagues there will resist the temptation for 'quick fixes' and for accepting uncritically models from abroad and if they learn from their own past, they will enrich significantly our knowledge and practice of individual and social change and the role adult education can play in these processes."
Summary and Conclusions
Several approaches were used by the seminar participants to summarize the proceedings. A participative moderation technique was used with the assistance of the University of Bamberg graduate students, as the seminar members sorted and resorted individually developed lists of major issues discussed. (Communication and team management topped the list). In addition, a small group consisting of Marcie Boucouvalas, Paul Belanger and Alexander Charters presented a summative report for the open discussion by the entire seminar.
The field of adult education has matured. The seminar focus was more on "refining" than "defining" the field. Researchers have distinguished between comparative and international work. A retrospective from Exeter to Bamberg reveals an expansion in resources. Researchers have come a long way in area translation. Many materials are in English. This is both a blessing and a restriction. The increase in the amount of publications and the bibliographies available are providing a literature base. While Adult Continuing Education is gaining independence as an organization, it must not forget it is part of a larger base. Language and ethnocentricity are a constant tension for communication. The seminar emphasized the need for more experienced professionals to nurture young researchers forgetting role and status as they join the group of inquirers. The inclusion of first-time members and graduate students in this seminar was evidence of the group's commitment to this goal.
Concerns remain:
Despite sufficient consensus to move forward, not everyone is in agreement about adult education/andragogy, particularly in regard to the crossing of boundaries into other fields.
The lack of resources is reflected by the small size of the seminar group and the absence of broader representation. A network to promote research is needed.
There is a need to introduce comparative research into the academic study programs and also for a textbook in comparative education.
Basic statistics are missing. The data infrastructure needs to be rebuilt by influencing databank collection policies, encouraging keeping program enrollment data and other raw data for research.
There are still dangers of adoption vs. adaption of models in comparative research. The exchange of scholars between countries, even at the student level, will promote interest in comparative work.
The very essence of what is meant by "research" in the shifting academic environment, fueled by such writers as Boyer & Rice in their book Scholarship Reconsidered was discussed.
Questions regarding the quality of the research currently being done were raised: What is acceptable as evidence as between inquiry and research? What is the expertise of our researchers in analysis and recording? What are our standards? How do we evaluate?
Comparative analysis requires the use of methodologies of disciplines such as psychology, sociology, history, and economics. Do we use the state of the art in comparative work from these disciplines? What can we keep, what adapt, and to what extent can we exchange research methodologies? No answer was reached, but the need for communication, not only among disciplines, but also between research, teaching and outreach was clearly expressed.
There is need to broaden our thinking about the possibilities for publication. Look for the application of our research to other fields, i.e. gerontology, consumer behavior, museology, for publication opportunities. Despite the requirement of academic "publication" in the narrow sense, scholars should consider "making public" their research findings in a fashion sufficiently timely to influence policy.
In addition to the working sessions, the seminar participants were entertained by the Mayor of Bamberg in the beautifully restored rococo Council Chamber of the ancient town hall. He shared a short history of the region and treated his international guests to food and wine of Franconia. The medieval character of the city, one of the few not destroyed during the war, is recognized as part of the cultural heritage of UNESCO. The baroque appearance of the center city, a legacy of the prince-bishops of the dynasty of Schonborn was enjoyed by participants on walking tours both formal and informal as they moved from their living quarters to the university. They also visited historic restaurants and local breweries to sample the local beer with the smoked taste, Bavarian food, and music and dancing of the region.
---
The local organization of this seminar was done by Jost Reischmann and his staff. Thank you, Jost and all other helpers, for all the love and work you invested!
This book includes presentations of the 1995-Bamberg- and the 1998-Radlovica-Conference:
for download
---
back to incoming page

-Homepage

top of page